Ausgangssituation
Nach einem Exchange 2013 Crash dank ESXI 6.0 musste ich eine Recovery-Installation durchführen.
Während der Neu-Installation des Exchange 2013 brach diese jedoch immer wieder mit Folgender Fehlermeldung ab:
Prozess Microsoft.Exchange.Directory.TopologyService.exe (PID=4772) Gesamtstruktur xxxxx.local. Fehler bei der Topologieerkennung, Fehlerdetails

No Minimal Required Number of Suitable Directory Servers Found in Forest xxxxx.local Site Standardname-des-ersten-Standorts and connected Sites..
Die Domäne hatte schon immer nur einen Domain-Controller, von daher war die Meldung erstmal unverständlich.
Verschiedende Seiten und Blogs empfehlen in diesem Fall den Wert
MinSuitableServer = "1"  in in der Microsoft.Exchange.Directory.TopologyService.exe.config zu ändern.  Aber auch das brachte keine Veränderung.
Letztendlich habe ich einen zweiten DC installiert – aber auch dies brachte keine Veränderung. Die Fehlermeldung blieb.
Die Lösung
Zielführend war folgende Seite:
https://bloke.org/windows/exchange-2003-2007-2010-topology-discovery-failed-error-0x80040a02-dsc_e_no_suitable_cdc/#comment-3982
Der Zusammhang war zwar ein anderer, aber das beschriebene Problem war das gleiche: In der Default Domain Controllers Policy hat unter
Computer Configuration ->Windows Settings -> Security Settings ->Local Policies -> User Rights Assignment  beim "Mange auditing and security log" der Eintrag "Exchange Servers" gefehlt (Warum auch immer in diesem Fall….)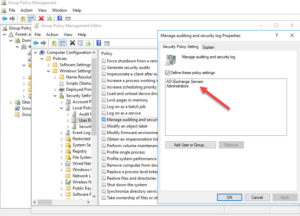 Das heisst, der Exchange-Server hatte nicht das Recht auf die Auditing und Security Logs des Domain-Controllers zuzugreifen und das Installationsprogramm interpretierte dies mit der Meldung, dass nicht genügend Domain-Controller verfügbar waren – was natürlich kompletter Quatsch war.
Nachdem das korrigiert war, lief die Installation ohne Probleme durch.